''Butterfly Museum'' About to be Open in Rhodope Mountains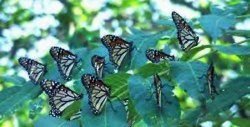 The ''Butterfly Museum'' is about to be open in the summer of 2015 in the pretty village of Borino located in the Rhodope Mountains, local media inform. The brand new museum is part of a nature centre in the ''Izvora'' area (translated into Bulgarian means ''the spring'') which is currently under construction.
The new lovely tourist attraction stands in the area of the ''Kastrakli'' Nature Reserve where more than 450 kinds of butterflies can be seen. The building is already completed, it is made of wood and it suits well in the entire scenery of a protected area! Along with the rich collection of butterflies, the nature centre will also present the unique biodiversity in the region.
The ''Kastrakli'' Nature Reserve is situated some 20 km from the town of Devin in the territory of the village of Borino. More than 330 rare plants can be seen there. What special about the ''Kastrakli'' Nature Reserve is, is the huge variety of healing herbs – more than 150 kinds!
---