Bansko will be ready to welcome the first skiers on 1st December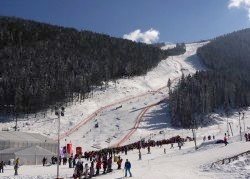 If the conditions are appropriate, the ski facilities in the splendid Bulgarian ski resort of Bansko will be ready on 1st December, Ivan Obreykov, the marketing manager explained.
All the ski facilities underwent full technical review in the summer. Important parts of the cabin rope-way are replaced. The rope-way has been used for ten years up until now.
When temperatures decrease below zero , the artificial snow system that covers the territory of the ski zone and the ski road starting from Banderishka Polyana to Bansko, will be fully prepared to function. The prices for the use of the facilities remain unchanged. The daily ski pass for adults costs BGN 58 again.
The programme that includes numerous events and races that will be hosted by the magnificent winter resort near the Pirin Mountain, is already planned. The first ski races comprising alpine disciplines will take place on 22nd and 23rd December. The major event planned for the new winter season will be the start of the Alpine Skiing World Cup, for women within the period from 28th February to 1st March.
---