Bulgaria is 1st in Europe and 3rd Worldwide in Direct Foreign Investments in Outsourcing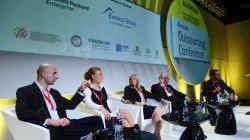 At the opening of the annual conference of the leaders of the European Outsourcing Association, Bulgarian Economy Minister Bozhidar Lukarski announced that Bulgaria ranks first in Europe and third in the world in terms of direct foreign investments attracted in the outsourcing sector.
According to him, the main key drivers for creating new jobs in Bulgaria are the sectors of information, communication technologies as well as outsourcing and business services. The new provided jobs at the end of 2015 stood at over 42000.
The European Outsourcing association didn't pick Sofia randomly as a location for the launching of the initiative for the implementation of a Global Standard for the Outsourcing Industry, underlined Lukarski. He explained that this is proof of the successful development of the sector in the country and well-deserved recognition for Bulgaria, which was declared Outsourcing Destination of the Year in 2015.
According to Lukarski, the standard will improve the effectiveness and value of services for both suppliers and customers of the outsourcing industry, and contribute to increasing professionalism in the sector. The iniative started in Bulgaria will be joined by China, Spain, Russia, the USA, South Africa, Albania, Poland and Egypt.
"One of our main priorities is to provide preconditions for the development of the country as a center for high technology services and industries by fulfilling the requirements of potential investors regarding the investment climate. Bulgaria is a good place to do business, a country with several economic advantages," added Lukarski.
---