Bulgaria Pertains to Top 6 Most Beloved European Winter Tourism Destinations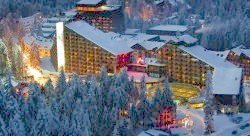 According to a recent survey, Bulgaria takes a firm position in a ranking related to top 6 most preferred European destinations for winter tourism.
Most Bulgarian ski resorts, in particular, the three major resorts – Bansko, Borovets and Pamporovo have significantly improved the quality of their services and facilities.
The approximate income from the winter season last year was BGN one billion and more than 1,2 million tourists visited our country. This year, one expects even a more successful winter season.
The steady interest in our winter resorts is already a fact and Borovets belongs to the list of the most attractive winter destinations! Tourism experts collaborate in enhancing the advertisement and the presence of Bulgaria in the international tourism market. A strategic partnership with the largest travel agencies and low-cost airlines is currently the most important issue concerning the better tourism development.
---