Bulgarian Ministry of Tourism will invest in golf tourism development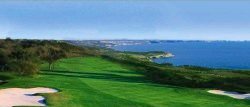 The potential of the Municipality of Kavarna in terms of seaside, golf and alternative tourism development as well as the expectations for the upcoming summer season were discussed at a meeting among Nikolina Angelkova, the Bulgarian Minister of Tourism and the local representatives of the tourism branch.
The Minister said that the Municipality of Kavarna is a great example of a successful advertisement and tourism policy. She also added that the modern seaside tourism can be perfectly combined with a golf holiday and other alternatives of tourism. The Municipality of Kavarna has started an advertisement of the ''Kavarna Rock Fest'' broadcasted by the most listened-to Romanian rock radio!
The golf not only attracts tourists of a higher social class but it also makes the summer season longer (up to 11 months). Among the priorities of the Ministry of Tourism is the policy aiming to promote and to popularize the development of the golf tourism as well as to provide better investment opportunities as far as the construction of new golf courses is concerned.
Bulgaria has seven functioning golf courses and the country itself is a desirable golf destination especially by tourists from the UK, Ireland, Romania, Ukraine, Romania, Russia and Macedonia. Potential markets are also the Scandinavian countries, Germany, and France.
---