Bulgarian ski resorts - dream spots for winter sports and family holidays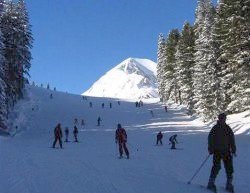 Bulgaria is characterized by divine nature and adorable mountains where pretty ski resorts are nestled offering to their visitors ultimate conditions for all kinds of winter sports. The climate is influenced by both the Mediterranean and the Northern Russian steppes which provides a huge amount of snow on the mountain peaks lasting for almost all the winter months.
There are numerous miraculous sites for sport activities, recreation the major of which are Bansko, Pamporovo, Borovets and Samokov. All of the above mentioned destinations offer top class facilities, comfortable hotels, guest houses as well as perfectly maintained spa and wellness centers. The total area of the ski slopes are 210 km and the highest trails start at an altitude of 2600 m!
All the ski trails are serviced by high-quality ski lifts which are starting points from the ski resorts. Around the prominent resorts of Bansko and Pamporovo are located the most illustrious villages representing the spirit of Bulgarian traditions shown through the architecture and the design of the houses. If you would love to become advanced in skiing, you can always rely on qualified ski instructors in every ski resort in the country! Bulgaria – an exciting and adventurous destination during all seasons!
---