Bulgarian ski resorts- Pamorovo is offering free skiing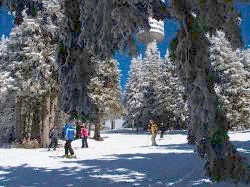 Bulgarian National Television reported on 26th of March that our Bulgarian ski resorts- Pamorovo is offering free skiing just ahead of Easter. This is a joint initiative by Smolyan municipality and the mountain resort.
Pamporovo continued to offer still excellent conditions for skiing and hiking, in spite of the warmer spring weather. This winter 2012's record snowfall of more than two meters which would allows the season to continue until mid- April.
At the moment Pamporovo mountain resort continued to have great snow coverage and they are still many tourists who enjoy their holiday in Bulgaria.
Probably some of the ski runs will be left and after the period 15t of April , but this will be decided later.
A day card would cost about 20Euro( 41 leva) and a half day card 31leva until the end of the ski season in Pamporovo-Bulgaria.
Use of all lifts and facilities would be free on two days close to Easter. On 9th and 12th of April , skiing at the resort would be free of charge.
GOOD OPPORTUNITY FOR EVERY KEEN ON SKIING.
---