Burgas region offers diverse opportunities for alternative tourism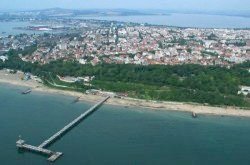 Rich history, interesting traditions, various cuisine, old and well kept crafts, folklore dances and music, beautiful nature and excellent opportunities for rural toruism are just some of the alternative forms of tourism which the seaside regions offer!
As an exciting and an attractive opportunity for the tourists, who seek different experiences, the presentation of these forms is the aim of the ''Tourist Paths of the Black Sea Region'' project.
The regional administration and eight more partners from seaside regions collaborate in the joint project striving to present the unique diversity of Bulgaria, Armenia, Georgia, Greece, Moldova, Turkey and Ukraine not only the opportunities for recreation they offer.
The first festival of such a kind took place in September 2014 in Turkey. Burgas region presented its unique traditions in preparing honey typical for the area near the Strandzha Mountain as well as other traditional products and crafts.
The visitors had the chance to get familiarized with cosmetic products elaborated by the Bulgarian Academy of Science and to enjoy authentic folklore songs from the Strandzha Area. The festival will take place in Burgas from 25 to 27 September 2015. (''Days of regional traditional craftsmen's and tourist products in the Black Sea region'').
Along with the cultural event, experts from the partnering organizations exchange experience and ideas at conferences on different topics related to tourism including decreasing the migration of young people from smaller to bigger inhabited places. An internet forum and a tourist website are elaborated intended for online purchases and reservations.
---