Drastic Price Slump at Bulgaria's Seaside Regions in September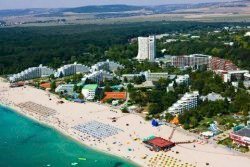 A recent survey made by local media shows that the prices of a holiday on the Bulgarian Black Sea Coast are by 50 % lower in September. Hotel keepers would love to present special offers to tourists who love autumn holidays.
One night accommodation in the all-inclusive three-star hotels cost from BGN 48 to 52 at the beginning of the month and ten days later, the prices fell down to BGN 35-40. In the end parts of some seaside resorts you can even find all-inclusive offers at the price of BGN 29.
The price slump begins by 15-25 % and after the middle of September, the price is even in-half. The prices of the high-class seaside hotels include a parasol on the beach and ''all-inclusive'' as the offers start from BGN 54 as of 6th of September.
Hotel keepers say, that the bookings on the Northern Black Sea Coast are regular as the customers are predominantly Bulgarian and Romanian tourists.
The prices fell down by 15-20 % until the 5th of September and after the first day of school (the 15th of September) there will be a second ''discount wave by extra 15 %''. A coastal hotel disposed on the beach itself would cost BGN 80 per night to stay.
---