Free walking tours in Varna continue in September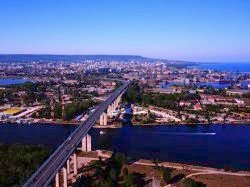 The free walking tours in the coastal city of Varna, the Bulgarian sea capital, organized by the Municipality of Varna in collaboration with the Union of the Bulgarian Tourist Guides, will continue until the 12th September.
The days on which the guests of the splendid sea capital are offered to walk all around the city, accompanied by a professional tourist guide, are Tuesday, Wednesday, Friday and Saturday. The tours start at 10.30 am from the tourist information centre located at the St. St. Cyril and Methodius Square. The tour continues three hours and the lecture is in English.
Up until now, more than 450 people from 38 different countries take part in the tours. Most of them come from Russia, followed by tourists from the UK, Germany, Bulgaria and the Netherlands. There are guests from China, the Republic of South Africa, New Zealand, Lebanon, as well.
---