Kazanlak finally designated as capital of the Rose Valley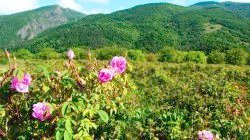 The new Ministry of Tourism has kept its disputed tourist region named ''The Valley of Roses'' with its center – the town of Kazanlak and it has incorporated it as a final proposal to the Council of Ministers. This frame of reference is already introduced and it is expected to be accepted until the end of this month.
According to it, Bulgaria will be divided into nine tourist regions with its core areas and towns until the end of 2016: Danube Region – Rousse, Balkan Mountains region – Veliko Turnovo, Sofia region – Sofia, Thrace region – Plovdiv, Valley of Roses – Kazanlak, Rila – Pirin region – Blagoevgrad, Rhodope – Smolyan, Varna region (Northern Black Sea Coast) - Varna and Burgas region (Southern Black Sea Coast) - Burgas.
Although Kazanlak region is not very extensive, many experts reckon that this region is worthy of becoming an individual region in the new tourist map of Bulgaria!
The Valley of Roses region with its center Kazanlak incorporates 19 municipalities: Anton, Zlatitsa, Karlovo, Mirkovo, Koprivshtitsa, Maglizh, Kazanlak, Nikolaevo, Sliven, Hisarya, Chavdar, Chelopech, Gurkovo, Pavel Banya, Sliven, Tvarditsa.
The areas envisaged to be developed are: cultural tourism (related to roses, Thracians, heritage from the Bulgarian National Revival); balneology (thanks to the outstanding SPA resorts of Hisarya, Pavel Banya) and some more mountainous, adventurous and wine tourism.
After their differentiation, every single region will be ruled by a local organization that will include municipalities and non-governmental organizations. These bodies should be specified until the end of 2016. They will have the opportunity to apply for the upcoming Regional Growth Fund programme with their own projects on tourism advertisement.
---