KINGS VALLEY -SPA AND BALENOLOGICAL COMPLEX near Kazanlak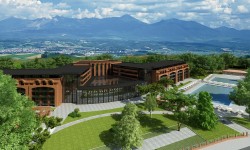 The best 5 stars Luxury SPA and balneological complex will be built on the territory of Kazanlak municipality, Stara Zagora region. The building construction is in progress and is expecting the project to be ready till the end of 2020 and to open doors at the beginning of 2021. The complex is situated outside the village of Ovoshnik just above the big Aquapark. In the area there is a mineral water that will be using for the SPA and the treatments.
The whole complex will cover land with size 41 500 sq.m. There will be 4 swimming pools with different temperatures of the water. One of them will be for children, another will be attraction swimming pool and another one suitable to be sued in the winter time. There will be also play grounds, recent park will be extended, restaurant, car parking, etc
Specific for the luxury complex is that the rooms will be larger than the standard once in order to provide more comfortable and possibilities for relaxation. There will be 260 rooms –single, double, luxury as each one of them will be with living area not less than 45 sq.m.
The total capcity of the future hotel will be up to 700 guests. There will be 266 parking spaces- 30 of them will be for electric cars. Charging stations will be provided both in the external parking place and in the underground garage of the building which capacity will be 68 parking spaces.
The complex will have 7 conference rooms, a large main restaurant in the hotel building, balneology and SPA with an area of 1500 sq.m. The building will be air conditioned and will have a fresh air ventilation system in the hotel rooms.
---