New eco path to lead to the natural wonder Vkamenenata Gora in the Rhodope Mountains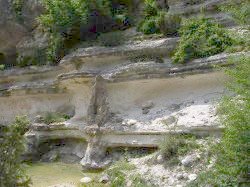 A new eco path leading to the natural object named Vkamenenata Gora (literally translated as 'the petrified forest') is done near the village of Raven in the Municipality of Momchilgrad. The total length of the itinerary is about 1 km and it offers the tourists a unique panoramic view as well as the great opportunity to take a closer view at the ''Borovets'' Nature Reserve that is well known for its largest black pine plantation in the Eastern Rhodopes.
The eco path starts from the village of Neofit Bozvelievo and it continues straight to the stockbreeding area named Studen Kladenets. The tourist itinerary directs the tourists to a wooden bridge and after they pass the marking, ''Vkamenenata Gora'' is already accessed.
This natural object represents an interesting rock formation dating back from 25-30 million years when the Eastern Rhodopes were subjected to underwater volcanic activity and to the element of terrestrial climatic factors. The unique fact related to the forest near the village of Raven is that all the trees are almost perfectly straight.
Such a phenomenon has never been described before in the whole world, experts explain. The ''Vkamenenata Gora'' natural object is declared as a protected area in the category of ''natural landmark'' in 1970.
---