Ognyanovo Balneology Center attracts more and more tourists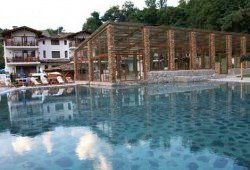 The Ognyanovo Balneology Center in Blagoevgrad region is visited by numerous Bulgarian and foreign tourists. The night accommodations are almost always booked up during the summer season, local hotel-keepers and owners of guest houses say.
A huge part of the tourists prefer to spend a relaxation holiday in the spa resort rather to have rest in a seaside resort. Not just Bulgarians visit this spot but also tourists from the Greek region of Drama, Russians and French. The settlement is well known for its numerous lovely mineral springs. Tourists from Russia visit this place the most often of all.
The water in Ognyanovo that has healing properties is well known since Roman times. The springs are characterized by unique healing force. A large array of diseases can be cured right there including diseases of the locomotory, endocrine, respiratory and digestive systems. 15 of the mineral springs are run by the Garmen Municipality. More than 10 hotels are built in Ognyanovo and guest houses offer night accommodations.
---