Over 17,000 Tourists have been on a Voyage along Danube River under Bulgarian Flag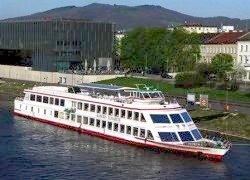 The cruise season for the ships of a Bulgarian company ended and the total number of tourists was over 17,000 this year. They were on a voyage along the Danube, the Rhine, the Main and the Moselle Rivers.
Despite some difficulties related to the level of the river, the cruise season turned out to be successful. The competition along the rivers is strong so this is why the managers in this field strive to improve the traveller's ships as well as to offer trips to the most attractive riverside destinations.
More than 2,000 tourists from Germany, England and Russia are expected to enjoy traditional Bulgarian cuisine and the exceptional friendliness of our crews.
In mid-November there will be a group of Bulgarian tourists who would love to travel along the route Cologne-Amsterdam-Rotterdam-Antwerpen-Dusseldorf. The passengers on the Bulgarian ship will celebrate the New Year's Eve in various places in Europe – Budapest, Linz and Amsterdam.
---