Rural properties attract buyers' attention again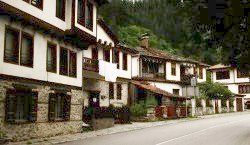 The Association of the Bulgarian villages has recently accounted on an increased interest of buyers in rural properties. Their attention is concentrated mainly on purchasing properties located approximately 25 km away from a certain city. The most active rural property market is in the regional cities of Burgas, Plovdiv, Blagoevgrad, Lovech and Veliko Tarnovo.
According to recent information of the Association, houses with garden plots with areas to 2000 sq.m and at prices to EUR 25 000 are the most desired properties. More and more Bulgarian citizens return to their rural homes and they are willing to renovate them as well as to invest in other homes in a rural countryside.
Rural properties on the Southern Bulgarian Black Sea Coast are the most demanded properties especially by Russian citizens. Family houses and apartments in close proximity to the beach are exceptionally preferred. The average prices per sq.m in this region concerning completed properties range from EUR 280 – 450 per sq.m.
The total number of people who moved to live in a rural countryside is 33 536. 54 % of them are exactly the people are aged from 18 to 45 – one really active age. The rest of the people who invest in rural homes are recently retired citizens. The tendency of moving to the village has remained the same since 2011 up to now.
---