Sunny Beach ranks 6th among the most affordable destinations for buying properties in Bulgaria from Americans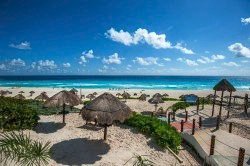 According of a National Association of Realtors, Sunny beach is ranked 6th in the world for the ten most affordable beach resorts to buy property from American citizens.
For compiling the ranking, the association has excluded countries with restrictive policies regarding foreigners who buy real estates. What American says about Bulgarian resorts is that Sunny Beach is the most famous resort on Black Sea coast. It was built in the 1950s during the former socialist regime. Nowadays the resort has attracted more and more European and American real estate buyers.
Sunny Beach attract mainly people who can work from every place, IT specialists. Also this city attract with the low property prices.
More and more Americans are asking for housing in the Sunny beach area. Most are interested in buying property that worth about 20,000 Eur ( about $ 25, 000) with no restrictions on the owners and rent out their property during the time when when are not here in Bulgaria.
1st in the rank is Zlatni Rat ( Golden Rat) located on the island Brach in the Adriatic Sea with population of about 14, 000. This place is popular for fans of paddle boarding, windsurfing and other water sports.
2nd in the rank is Mirtos beach, located on island Kefalonia, Greece. The properties are not located exactly on the beach, but you can find in the nearest villages.
3rd in the rank is Tulum, Mexico- place attracted not only from Americans. During the past few years this place attract buyers from Europe and Canada.
4th in the rank is Dixon Port, Malaysia
5th is for Praia da Rocca, Portugal
7th in the rank is An Bang Beach, Vietnam
8th is for la Concha Beach, Spain
9th in the rank is Dominican Beach, Costa Rica
10th in the rank is Salinas, Ecuador
---