The Rhodopes are the 7th region of Rewilding Europe Initiative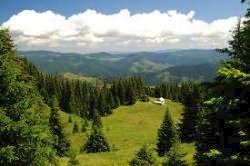 The beautiful Rhodope Mountains are officially regarded as a part of the pan-European initiative aiming at recovering the wild nature. The initiative is named Rewilidng Europe. One member of the Rewilding Rhodopes team told the local media that the Rhodopes are one adorable mountain range and one of the European regions notable for the hugest biodiversity thus having a great rewilding potential.
The Rhodope Mountains are ecologically related to the wild regions south of the Bulgarian border: the southern slopes of the one-name mountain and the Slavyanka Mountain in Greece. To the west, the Rhodopes reach the Northern Pirin Mountains and Rila famous for their spectacular Pirin and Rila National Parks. The activity of the Rewilding Europe initiative will be concentrated on the eastern part of the mountain range during the first few years.
The work on recovering the wild nature envisages giving freedom and protection of the natural processes that form the nature of the Rhodopes. The main local protected species will be especially taken into account – deer, a multitude of rapacious birds and ground squirrels. In addition, the rewilding aims to enhance the protection of the old forests as well as to popularize more and more ways for natural management of protected areas.
---