Three new resorts to be built in Bulgaria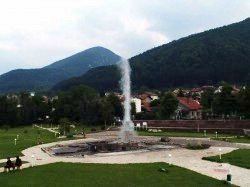 Local media inform that the building of three new resorts will begin in due course. BGN 2,9 billion will be invested in two resorts in the Rila Mountain and one resort close to Sofia, the Bulgarian capital city.
''Destination Rila'' is a French-Bulgarian project that amounts to BGN 1,2 billion. Investors from Hongkong intend to build an entertainment settlement in Las Vegas style that will be located near the town of Elin Pelin to the value of BGN 1,6 billion and a rehabilitation centre will be built in the town of Sapareva Banya.
At first, the total investment in the centre amounted to BGN 75 million for a hotel with 400 beds as well as for a balneology part and a medical part with a capacity for 2000 people a day. For investors plan to supply more beds, the hotel part is projected to be expanded and new detached villa houses will be built. Thus the investment sum related to the project will be increased.
The idea of the establishment of a new winter resort in the Rila Mountains is vividly discussed. The investment is assessed for up to BGN 600 million for the making of ski runs and facilities in Rila. Investors' intentions are that it would be great to develop a ski zone with hotels as well as tourist objects with possibilities for all-year-round visiting (such as a golf course, an aqua park, playgrounds for children.
In April on the latest the first sod is expected to be turned at one of the greatest tourist projects in the country. Investors from Hongkong will build the most morern entertainment centre on the Balkan Peninsula in close proximity to the golf course in the village of Ravno Pole. It will feature top class hotels, casinos, an aqua park, a shopping mall, a sports playground and a lot more attractions.
---